Description
+++ Enjoy this Alcoy Moors and Christians, 5h private guided tour with private transport from Benidorm with your own, couple, family or private party up to 6 people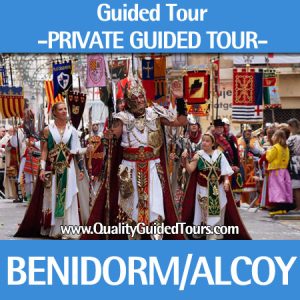 Known for the famous festival of the Moors and Christians, Alcoy is a fascinating place to visit and learn about the legend of Saint George.
The Alcoy Moors and Christians, 5h private guided tour begins with a visit to the museum of festivity, or Museum of the Fiestas, taking you on an educational and entertaining stroll through the history of the Moors and the Christians in Alcoy. Once you have a general idea about the festivity, you will head over to the beautiful Saint George Church to admire the historic neo-Romanesque building, richly decorated in neo-Byzantine style. As you explore the church, listen to the fascinating story of Saint George and then visit one of Santiago Calatrava's design: the Llotja de Saint George, a singular construction that simulates the skeleton of a dragon.
Remember the history and discover this festival declares International Tourist Interest.
Afterwards, enjoy a brief walking tour along one of the main streets of the city where the parade passes through, and dotted with many modernist houses, including the amazing peacock house, one of the most emblematic private buildings of Alcoy, reflecting the economic boom experienced by the city in the early 20th century.
We were born in this lovely and wonderful Mediterranean lands, and we are proud of them. In this Alcoy guided tour you will not just learn, you will feel and experience Mediterranean tradicions, culture and cuisine all in all.
What's included in "Alcoy Moors and Christians 5h private guided tour":
• Circulo Industrial
• Llotja of Saint George
• Saint George Church
Not included in our Alcoy Moors and Christians 5h private guided tour:
• Moors and Christians museum (MAF)
• We offer the chance to book a coach for a group up top 35 people
Download complete information about our private guided tours
Download a catalogue (.pdf) with complete information about each destination (all our tours, meeting point, cancellation policy, recommendations, private transport, etc)
Alicante | Benidorm | Cartagena | Valencia
** Private tours developed by Qualified Local Guides. Book only professional guides. If you are travelling with a private group, family or friends, you can book a private guided tour + transport for your party **