Balcony over the Mediterranean special and unique place in Benidorm.
The Cerro Canfali rock gives onto the viewing point known as the Balcón del Mediterráneo ("balcony over the Mediterranean"), which offers outstanding views over the sea.
This monument-viewing point is located in the old town of Benidorm, between the 'playa de Levante' and the 'playa de Poniente' . It is part of the 'Plaça del Castell', a pretty square open to the sea.
The Mediterranean Balcony offers wonderful views over the sea and the beaches of Benidorm. With pentagonal shape and painted in different shades of white decorated with glazed tiles, it is one of the city's most emblematic places. It is also the perfect location to gaze at the dawn in the Mediterranean Sea.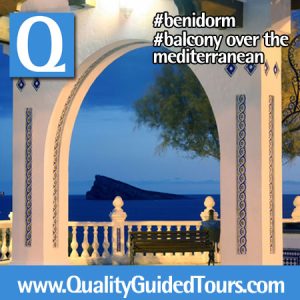 Let´s go one night to have a look to the balcony over the Mediterranean, and enjoy some Mediterranean breath!