Description
Enjoy this Alicante 4h private shore excursions guided tours with your own, couple, family or private group from 1 to 35 people 
Private shore excursions to Alicante. Visit some of the many treasures of Alicante on this half-day guided tour that takes you into the city center and up into the mountains.
Start this Alicante 4h private shore excursions guided tours during morning with your private tour guide Alicante in a panoramic drive around the city center: the old Town Hall, Monuments, Spanish Explanade, Bull-Ring and finally we will visit the castle. On Benacantil Mountain you'll find Santa Barbara Castle, a spectacular structure sitting 166 meters above sea level, offering sweeping views of the Alicante bay.
Take a walk through the old city center and experience a typical Mediterranean setting. You'll see the St. Nicholas Co-Cathedral, built in the Herrerian Renacentist style over the remains of a mosque. Surrounding the San Nicolás Co-cathedral you will find one of the most niciest squares with several XXth century houses, with different materials and showing all the economical splendour of this centuries.
The Baroque Town Hall dates from the 18th century, and the Modernist palace known as the Carbonell House dates from 1924. Take a walk along the esplanade, a pedestrian street by the sea that was made from over 6.5 million ceramic pieces.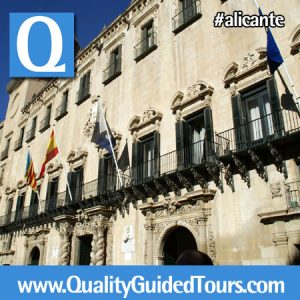 In all of our Alicante private shore excursions, after this short walking tour around the city center, you'll head off on a drive to San Juan Beach, where you'll visit the Santa Faz Monastery. Inside the monastery you'll see a relic brought from the Vatican in the 15th century. According to popular tradition, this was the cloth with which Veronica wiped the face of Jesus on the road to Calvary. We where born here, we will show you the best corners of this city. We are mediterranean and also private tour guides Alicante, you feel like a local 😉
In this city you will find many options if you want to book Alicante private shore excursions
What's included in our Alicante 4h private shore excursions guided tours:
• 4h Private Tour Guide Alicante / Driver
• Santa Barbara Castle
• St. Nicolás
• Car or mini-van up to 6 people. If you are a bigger group ask us for a special quotation.
Not included in our Alicante 4h private shore excursions guided tours:
• Entrance to Santa Faz Monastery (10€ donation)
** Check the meeting point for this Alicante 4h private shore excursions guided tour:
4h Private Shore & Cruise & Excursions with coach

4h Licensed Tour Guide English speaking 195€

4h Private Transport in a coach up to 35 pax €400

Private tour guide + bus driver

Local music

Tax + VAT included

Private parkings included

Tickets entrance per person NOT INCLUDED

4h Private Shore & Cruise & Excursions with mini-van

4h Licensed Tour Guide English speaking 195€

4h Private Transport in a luxury mini-van up to 6 pax €195

Private tour guide/driver the same person

Soft drinks included

Local music

Tax + VAT included

Private parkings included

Tickets entrance per person NOT INCLUDED

4h Private Shore & Cruise & Excursions with car

4h Licensed Tour Guide English speaking 195€

4h Private Transport in a luxury car up to 4 pax €195

Private tour guide/driver the same person

Soft drinks included

Local music

Tax + VAT included

Private parkings included

Tickets entrance per person NOT INCLUDED
CHECK THE PLACES YOU WILL VISIT IN THIS ALICANTE 4H PRIVATE SHORE EXCURSIONS GUIDED TOUR:
Ana & Jordi Linares Private Tour Guides Alicante
 Donwload complete information about our private guided tours
Download a catalog (.pdf) with complete information about each destination (all our tours, meeting point, cancellation policy, recommendations, private transport, etc)
Alicante | Benidorm | Cartagena |Valencia
** Private tours developed by Qualified Local Tour Guides. Book only professional guides. If you are travelling with a private group, family or friends, you can book a private guided tour + transport for your party **