Description
Valencia in Fallas!
It is spring time and with this Valencia Fallas walking tour you wil discover how Valencia welcome this season with its Fallas festival. Explore the city with our private tour guides in Valencia, the best way to discover this amaring spanish festival!. Only available 16th, 17th, 18th adn 19th of March during the morning from 10h – 13h.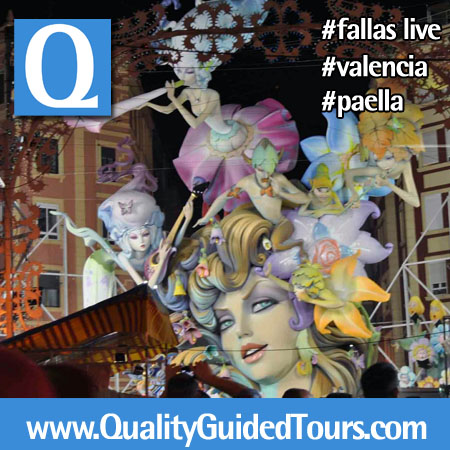 In the week of 19th March, Valencia converts its streets in interesting museums with huge cardboard statues. Caricatures and satirical representations that criticise politicians, celebrities and the most relevant events in the news, with a great sense of humour are the clues for this Fallas.
Enjoy our Valencia Fallas walking tour
In this Valencia Fallas walking tour you will have the chance to discover some of the special Fallas that participate in the special competition. Your private tour guide in Valencia will show you the best itinerary.
We will start this Valencia Fallas walking tour with your private tour guide in Valencia in Serrano's Towers, Virgin Square, the Cathedral, and we will admire the Falla located next to the Town Hall, it is the only one which doesn´t participate in the competition. Continue the walking tour visiting Fallas like: Convento Jerusalen-Matemático Marzal, Cuba-Literato Azorin and Sueca-Literato Azorin in Ruzafa´s neighbordhood.
6 Special Fallas in total we will visit accompanied by our private tour guide in Valencia, while we go to enjoy this Falles we will find little Fallas, music, differents parades and the great enviroment of Valencia in Fallas.
** Meeting point: Serrano's Towers – Furs Square-.**