Description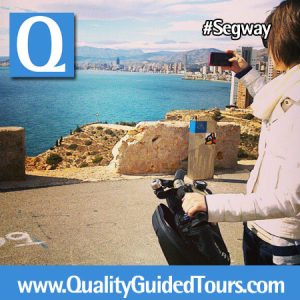 What about a Segway tour in Valencia?The Segway is a two-wheeled, self-balancing, battery-powered electric vehicle invented by Dean Kame. And this will be a unique and fun 2h Segway tour in Valencia. The Segway uses technology called dynamic stabilization to maintain its balance. It looks like you're going skiing. So, one of the best options to discover Valencia, this city completely flat is with a Segway: easy, safe and fun. During this Segway tour in Valencia you will follow your monitor / tour guide in a small group. Maybe share this segway tour or you can book a private segway tour in Valencia just for your group, as a present, etc. We always offer the best, new an original segway machines in reduced groups.
Why a 2h Segway tour in Valencia?
In  this 2h Segway tour in Valencia limited time you can visit the amazing city of Valencia: following the Turia riverbed we will find the City of Arts and Science, the Palace of Music, Serrano´s tower and the old bridges crossing the Turia riverbed.
Easy to handle
Get to know the city in an amusing and original way!! A floating sensation!!
Tours with a monitor-guide equipped with radio-audio headphones.
What´s included in our 2h Segway tour in Valencia:
Insurance +Training + Tour
Monitor / tour guide
Radio – audio headphones
** Meeting point: Pintor Lopez street, where the shuttle bus from the cruise stops **

Ana & Jordi Linares Private Tour Guides in Valencia:
 Donwload complete information about our private guided tours
Download a catalog (.pdf) with complete information about each destination (all our tours, meeting point, cancellation policy, recommendations, private transport, etc)